What time is it? It's brunch time! And that's the best part about brunch—the timing doesn't matter. Whether you're ready for brunch in the morning, noon, and early afternoon, it's all totally acceptable. As long as you're settled into your seats before 3pm, you can go ahead and chalk it up to brunch. We've explored brunch before in this blog, but that was pre-pandemic, so let's go ahead and give it another go. Here are some of the best brunch spots in Kansas City.
Eggtc.
Hailed as a neighborhood favorite—ok, because it's my neighborhood favorite—Eggtc. has a line around the corner on a Saturday or Sunday morning. Probably because it has a massive menu, with a wide array of omelets, French toasts, pancakes. And with a second location in Shawnee, Eggtc. is a great way to start the day!
Gram & Dun
Personally, I like some sugar in the morning—a throwback to bowl after bowl of Frosted Flakes as a kid—so when I heard Gram & Dun had the best cinnamon rolls in the city, I had to check it out. Not bad. Not bad at all, especially if you like icing and a sticky brown sugar glaze. There are also breakfast tacos, French toast, waffles, burnt end mac and cheese, shrimp and grits, pretty hefty salads and more.
Trezo Mare
Though the prices don't reflect it, this is a pretty high-end brunch at Trezo Mare. Yes, there are your standard egg dishes, French toast, and oversized cinnamon rolls. But you also have some unique items that you can find everywhere, like praline bacon, fusilli short rib Diablo, crab cakes, and pizza.
Café Gratitude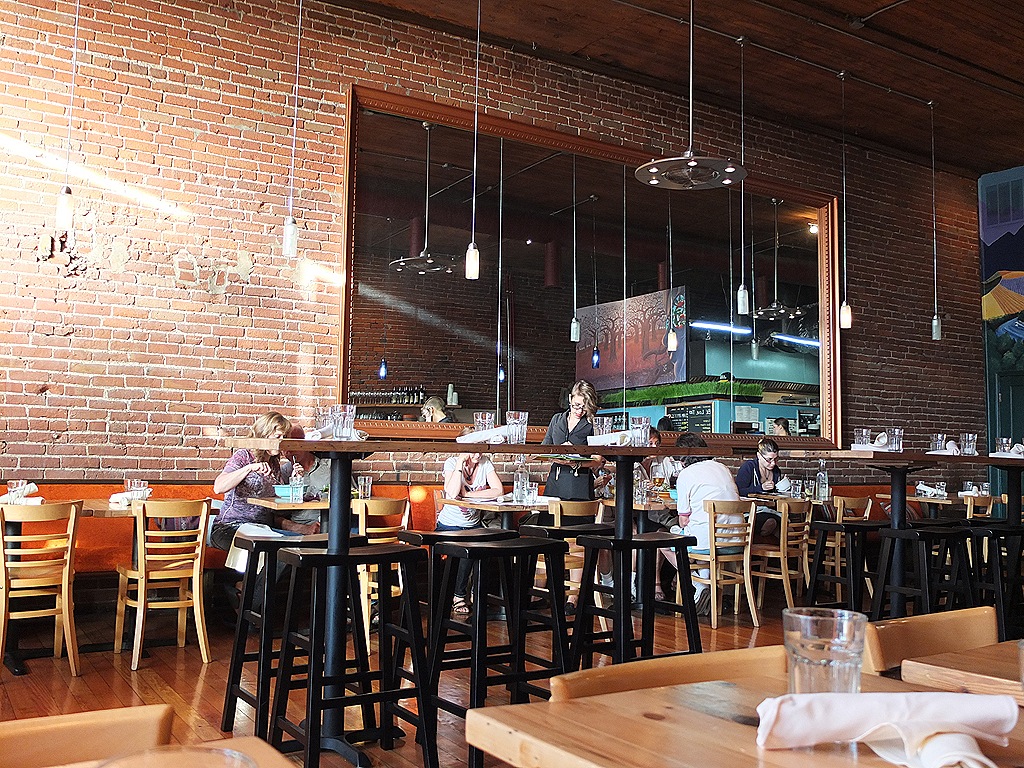 A little self-awareness and self-reflection for brunch never hurt anyone. With vegan disheslike I Am Present, I Am Grounded, and I Am Fulfilled, you'll leave feeling full in your belly and in your soul. Take a juice, shake, your smoothie to-go, and your day will be more than complete.
Grand Street Café
My favorite part about the Sunday brunch at Grand Street Café isn't the balance of sweet delicacies like Belgian waffles and bruleed French Toast with savory items like huevos rancheros and a grilled salmon salad. No, it's the plethora of cocktails and spiked coffees. Eye openers, indeed!
Westside Local
Okay, not brunch, but blunch, with fresh, local, farm-to-table ingredients. The menu features several variations of eggs benedict, a veggie hash, a veggie burrito, plus fresh breads and biscuits, not to mention meat options like sausages and bacon and pork belly. It feels like they twisted some traditional breakfast items to showcase locals vegetables, meats, cheeses, and flours. Which is a good thing. A very good thing.
Beer Kitchen
I don't know how else to say this, so I'm just going to say it. Baby donuts. Cue the gasps. Cue the fainting spells. I have a very strict "no donuts on week days" policy, but for these little powder sugared gems at Beer Kitchen, I'll make an exception. Fortunately brunch is typically a weekend thing, so I don't have to compromise my morals. Plus, a potato chip omelet, brunch enchiladas, and something called a Krunchberry waffle. And perhaps best of all, several types of Bloody Mary's!
Harvey's at Union Station
The best part about the brunch at Harvey's is that it lasts until 3pm. And it's a buffet. Prime rib, glazed ham, eggs, quiche, sausage, bacon, fried chicken, fresh buttermilk biscuits, rolls, an assortment of salads, pastries, and more. And if you're not feeling the buffet, you can order from the regular menu. Reservations are encouraged, but not required.
La Bodega
Putting a Spanish twist on the classic American brunch, La Bodega serves sweet and savory dishes, everything from eggs benedict with chorizo hollandaise to avocado toast to crepes with berries and queso fresca. Plus, more exotic cocktails than your standard mimosa or bloody Mary.
Classic Cup Sidewalk Café
Boasting a pretty substantial brunch menu and located right on The Plaza, Classic Cup Sidewalk Café has omelets and buttermilk griddle cakes and chicken salad and a la carte items like home fries and fruit, but what I'm most excited about is the Pacific Northwest Benedict. The saltiness of the smoked salmon blending with the creaminess of the egg and hollandaise sauce literally makes my mouth water. If you'd like to treat me to brunch, that is where we shall go.
Lidia's Restaurant
If you're up by 11am on a Sunday, Lidia's has a pretty good brunch setup. For just under $30 per person, your table can share family style platters of Italian salads, fresh fruit, cured meats and cheeses, and fresh breads made in house. After that, guests can choose from a wide range of classic Italian dishes such as manicotti, gnocchi, osso buco, lasagna, spaghetti carbonara, and much more. And if your gut's not busting at that point, dessert is also included.
And if you'd like some career guidance or help developing the optimal company culture, check out our website at https://www.chiefofstaffkc.com.